Flavor starts with your fuel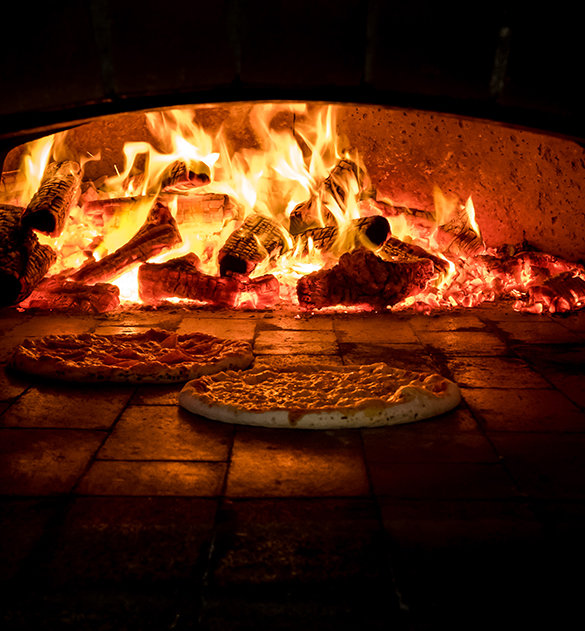 Restaurants that use fire for cooking need quality wood—not just hardwood, but dry wood. While kiln dried firewood is excellent, it is also quite expensive. Firewood that is properly seasoned in the traditional manner burns just as well, without burning a hole in your budget.
S&T Firewood uses the traditional approach of seasoning firewood. All the logs we cut are stored in a covered area on our site before doing anything with them. The logs are then split into small pieces and stored in ventilated bags for a minimum of 8 months. This allows the wood to naturally season, without the risk of molding, mildew and rotting that occurs when firewood is stacked in a pile. Every bag of split wood is marked with the date so we know exactly how long it has been seasoning.
While kiln drying can be done in a week or less, the traditional approach to seasoning firewood requires planning and, obviously, time. You would think this would mean seasoned firewood is more expensive, but it's actually just the opposite. In fact, kiln dried wood is often twice the cost of seasoned firewood.
S&T Firewood not only offers seasoned hardwoods that burn as clean and as hot as kiln dried firewood, we offer them at unbeatable prices. We also offer free delivery anywhere in southeast Wisconsin and free kindling with every order.
Wisconsin Seasoned Wood Dried Naturally
Low moisture content allows wood to ignite easily. Very little kindling needed, if at all.
Burns hotter and cleaner than unseasoned wood (less odor and smoke).
Our wood is cut into small pieces for ease of handling and more burning surface area, which generates more heat.
Free Delivery throughout Southeast Wisconsin and Free Kindling (while supplies last)
OAK WOOD
Get a hotter burn in your stove, fireplace or fire pit with oak firewood. Oak burns slower for a long-lasting fire.
FACE CORD $210
4' X 8' X 16" (ONE ROW OF WOOD STACKED)
FULL CORD $490
4' X 8' X 4' (THREE FACE CORDS)
CONTACT FOR OAK WOOD
CHERRY WOOD
Cherry wood burns slow when dry and has a pleasant fragrance. Great for quality nights around the campfire.
FACE CORD $230
4' X 8' X 16" (ONE ROW OF WOOD STACKED)
FULL CORD $550
4' X 8' X 4' (THREE FACE CORDS)
CONTACT FOR CHERRY WOOD
MIXED HARDWOODS
Our mix of maple, ash, locust, and/or hickory wood is easier to start. Enjoy a cozy night in front of the fireplace.
FACE CORD $180
4' X 8' X 16" (ONE ROW OF WOOD STACKED)
FULL CORD $420
4' X 8' X 4' (THREE FACE CORDS)
CONTACT FOR MIXED HARDWOODS
Wisconsin Firewood For Sale - Free Delivery For Southeast Wisconsin
Stock up on firewood logs for your fireplace, fire pit, stove, or camp fire. We offer free firewood delivery across Southeast Wisconsin—no maximum delivery range. Our wood is cut 16" long. You can get a face cord (4' x 8' x 16" stack of wood) or a full cord (three face cords) depending on your needs and whether you like saving money on great firewood. Plus get free kindling with every order while supplies last! Contact us to order your oak, cherry or mixed hardwoods.
You can also pick up your wood at our location:
S&T Firewood
7813 Big Bend Rd
Waterford, WI 53185
ORDER WOOD TODAY