A great fire starts with great firewood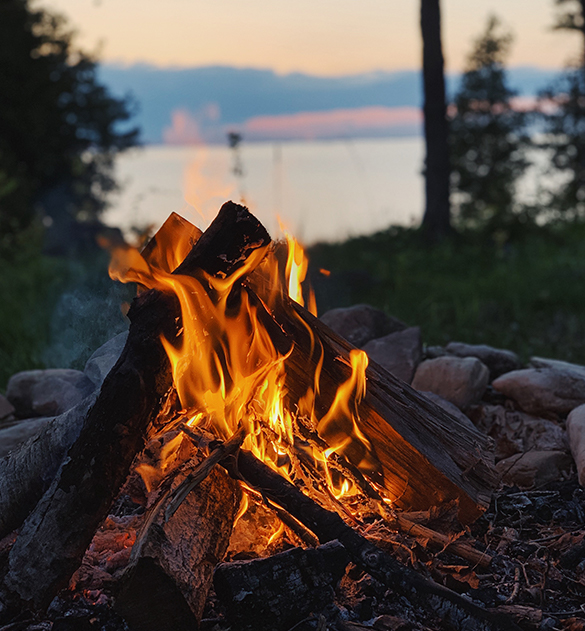 If you do any camping in Wisconsin, you know you can't always count on finding dry firewood to build a fire. The only way to be sure you'll be able to have a fire is to bring your own wood. That's where seasoned firewood from S&T Firewood comes in.
Although we sell firewood by a face cord or full face cord, we realize it isn't practical to buy this much firewood if you're only planning to use it for a weekend trip. No problem. Just let us know how long you'll be camping and we'll get you a quote for just enough firewood to get you through the weekend.
Our seasoned firewood burns hotter and longer than anything you might scrounge from the forest floor, and with less smoke. It is also certified by the State of Wisconsin Department of Agriculture, Trade and Consumer Protection to be free of Emerald Ash Borers, Gypsy Moths, Oak Wilt, and other pests and diseases, so you can transport and use it at any state campground in Wisconsin. A certificate, which you'll need to show when entering a state park, is included with every order.
The seasoning process for our state-certified firewood starts by storing the logs we cut for 2 years before doing anything with them. We then split the logs into smaller pieces and store them in ventilated bags for at least 8 months. This allows the wood to naturally season, without the risk of mold, mildew and rot that occurs when firewood is stacked in a pile.
We offer free delivery on all orders in southeast Wisconsin and include free kindling to help you get your fire going faster. Check out our firestarters too, which provide up to 15 minutes of fire-igniting flame.
Wisconsin Seasoned Wood Dried Naturally
Low moisture content allows wood to ignite easily. Very little kindling needed. Burns hotter and cleaner than unseasoned wood (less odor and smoke).
Wood is cut into small pieces for ease of handling and more burning surface area, which generates more heat.
OAK WOOD
Get a hotter burn in your stove, fireplace or fire pit with oak firewood. Oak burns slower for a long-lasting fire.
FACE CORD $210
4' X 8' X 16" (ONE ROW OF WOOD STACKED)
FULL CORD $490
4' X 8' X 4' (THREE FACE CORDS)
CONTACT FOR OAK WOOD
CHERRY WOOD
Cherry wood burns slow when dry and has a pleasant fragrance. Great for quality nights around the campfire.
FACE CORD $230
4' X 8' X 16" (ONE ROW OF WOOD STACKED)
FULL CORD $550
4' X 8' X 4' (THREE FACE CORDS)
CONTACT FOR CHERRY WOOD
MIXED HARDWOODS
Our mix of maple, ash, locust, and/or hickory wood is easier to start. Enjoy a cozy night in front of the fireplace.
FACE CORD $180
4' X 8' X 16" (ONE ROW OF WOOD STACKED)
FULL CORD $420
4' X 8' X 4' (THREE FACE CORDS)
CONTACT FOR MIXED HARDWOODS
Wisconsin Firewood For Sale - Free Delivery For Southeast Wisconsin
Stock up on firewood logs for your fireplace, fire pit, stove, or camp fire. We offer free firewood delivery across Southeast Wisconsin—no maximum delivery range. Our wood is cut 16" long. You can get a face cord (4' x 8' x 16" stack of wood) or a full cord (three face cords) depending on your needs and whether you like saving money on great firewood. Plus get free kindling with every order while supplies last! Contact us to order your oak, cherry or mixed hardwoods.
You can also pick up your wood at our location:
S&T Firewood
7813 Big Bend Rd
Waterford, WI 53185
ORDER WOOD TODAY